Wall Mount Kit
EarthNet Energy provides an option for wall mounted PV modules that offers a unique look with the same efficiency as other mounting styles.  The kit includes a triangular wall mount structure, clamps, and rails.  The mount also has a rail splice kit and bonding jumper which links rails together and correctly grounds them.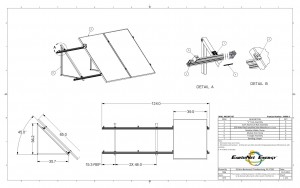 (6) "L" Foot Assembly
(2) 124"Aluminum Rail Assembly
(4) Module Middle Clamp
(4) Module End Clamp
(3) Triangle Assembly
(2) Bonding Jumper
Additional Products
You may also like...