Standing-Seam Roof Kit
The universal seam clamp is specially designed to attach loads to metal standing seam roofs by using innovative design that allows for continuous pressure contact against the attachment surface, resulting in no permanent damage to the roof while balancing the load over the span of the clamp.  The kit includes standing seam clamps, rails, and clamps to hold the PV modules.  Also provided are rail splice kits to join rails together as well as a bonding jumper for correct grounding.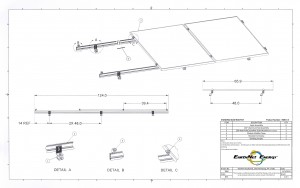 (6) Seam Assembly
(2) 124" Aluminum Rail Assembly
(4) Module Middle Clamp
(4) Module End Clamp
(2) Bonding Jumper
Additional Products
You may also like...