Metal Roof Mount Kit
The metal roof mounting kit offers a single penetration component that securely goes into metal purlins and wood beams for fast installation. The metal kit includes mounting plates with lags, clamps, and rails.  A rail splice kit is provided to link rails, along with a bonding jumper to correctly ground the rails.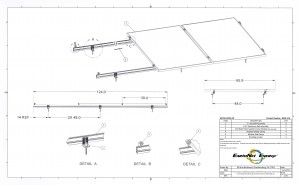 (6) "L" Standoff Assembly
(2) 124" Aluminum Rail Assembly
(4) Module Middle Clamp
(4) Module End Clamp
(2) Bonding Jumper
Additional Products
You may also like...