Flat Roof Kit
Our flat roof mounting kit allows for angle adjustability when mounting your photovoltaic modules to ensure the most efficient installation for energy production. The kit provides legs with the back row being adjustable, clamps, and rails are also included.  A rail splice kit and bonding jumper are provided in the kit to join rails and correctly ground them.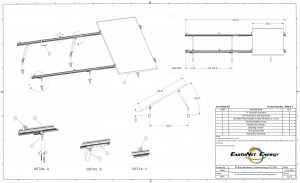 (6) "T" Standoff Assembly
(2) 124″ Aluminum Rail Assembly
(4) Module Middle Clamp
(4) Module End Clamp
(3) Aluminum Adjustable Bracket
(2) Bonding Jumper
(6) Tilt Leg Assembly
(2) Rail Splice Assembly
Additional Products
You may also like...